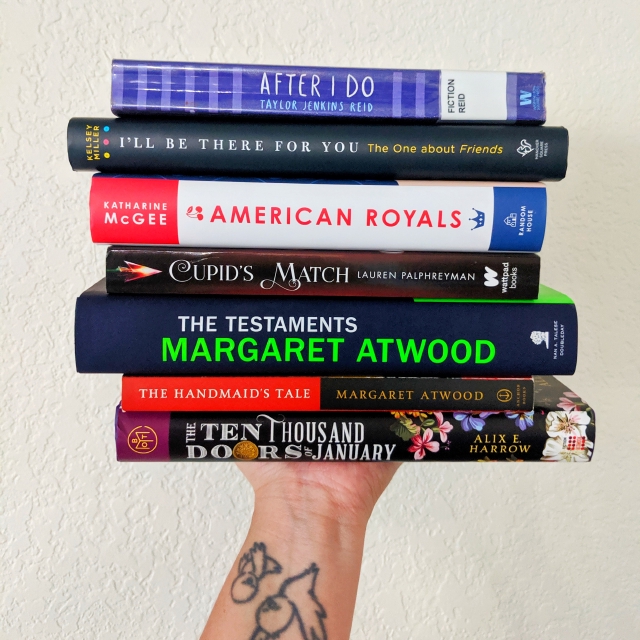 September Review
8 min read
After my first full month of reading and reviewing, I have found my groove. I have also found little tweaks to make this process more manageable. I read a record number of books this month: 13! I am feeling a little burnt out, not with the reading, but with the reviewing. I have at least 10 books planned to read in October, so I think I'm going to narrow my full reviews here to one per week. For shorter reviews on everything I read, check out my Instagram. There I will post reviews, good and bad, on all books I finish.
Final Girls
By Riley Sager
****
This book was my first Riley Sager novel and my first Buddy Read, and I loved it! As far as thrillers go, Riley Sager is a genius, and he also writes right on the line of thriller and horror. If you do not want to be creeped out, don't read a Riley Sager book. Sager is brilliant at twists and turns and making you think one thing is happening when it unravels a different way entirely. This book would be a great read for October; in fact I am reading his other two books this month.
When Life Gives You LuLuLemons
By Lauren Weisberger
***
This book did not receive a glowing review from me. I purely enjoyed the entertainment value of this book, but it made me feel horrible about myself pretty much the entire time I was watching. The characters were mostly unlikable and the whole setting made me cringe. The portrayal of that particular population of women, no matter how true, made me super uncomfortable. I probably wouldn't recommend this book to many people, unless you are really obsessed with The Real Housewives franchise and can read this book as if you were watching an episode.
The Light We Lost
By Jill Santopolo
****
I really enjoyed this book. I read it because it discusses September 11, 2001. Then I realized that 9⁄11 was only discussed for about 2% of the book. Despite that fact, this book was still enjoyable. The POV was second person, which was totally foreign to me. After I got used to this narrator shift, I really enjoyed this and thought it really added to the story. I would recommend this book if you want to read a dramatic and long love story. This book spans a decade long relationship while both parties find themselves and love others.
The Ten Thousand Doors of January
By Alix E. Harrow
*****
I read a lot of books that I loved this month, and this was one of my favorites. This book will always hold a special place in my heart for introducing me to fantasy. I have been so afraid to read fantasy for so long, but this book opened my mind up to doing that. Just read my entire review because I can't put my love for this book into one paragraph.
I'll Be Gone in the Dark
By Michelle McNamara
*****
This was my first audiobook for the month, and it took half of the month to get all the way through it. If you do not know about this book and you love true crime, read it now! McNamara was Patton Oswalt's wife, and she was obsessed with The Golden State Killer. She began investigating cases from his killings, but she unexpectedly passed away in her sleep before the GSK was caught and arrested. Most of this book was written by McNamama before her death, while the rest was finished based off her notes and journals.
The Handmaid's Tale
By Maragaret Atwood
****
I read this entire book in two days in anticipation for the release of the sequel. I was mainly just curious of how Atwood would write the sequel in regards to the show. The Handmaid's Tale is only 300 pages, so I thought it would be a quick weekend read. I was wrong; this book is very dense. There is only one POV and almost no dialogue. If you watch the show, the first book is the same as the first season, but with less detail than the show. I actually prefer the show to this book because of the multiple POV and storylines in the show, however the writing was still beautiful.
The Testaments
By Margaret Atwood
*****
This is the sequel to The Handmaid's Tale that was highly anticipated after over 30 years of the publishing of the first book. I was very curious of how Atwood would write this sequel since the show goes much further past the first book. I thought that the show brilliantly bridged the first book and the second book together, and now I am even more curious if the show is going to follow the path to the sequel.
Cupid's Match
By Lauren Palphreyman
***
This book was the first and only ARC that I got around to this month. Cupid's Match is released tomorrow, on October 1. I was very conflicted about this book. It was entertaining, and the story was unique. BUT it was written like a Twilight book, and I do not appreciate the writing of those books. Strangely enough, I will probably read more books in this series in the future. I really found the plot interesting enough to continue.
American Royals
By Katharine McGee
*****
Wow! This book was so fun, and I lived living in this fictional world where America was a monarchy. Can you even imagine it? This book is YA, but I did not feel like I was reading YA other than the fact that there was no sexual scenes. American Royals is the first in a, hopefully long, series. The sequel is coming out Fall 2020, and I don't know if I can wait that long without the Washingtons in my life.
The Flatshare
By Beth O'Leary
*****
I am not a contemporary romance fan. I am too picky about developed characters and storylines to enjoy most contemporary romance novels. However, The Flatshare was a perfect contemporary romance for me. The characters were fully developed before the romance began. Slow built romances are my favorite, and I feel like the most realistic.
I'll Be There for You: The One About Friends
By Kelsey Miller
***
I read this book in anticipation for the 25th Anniversary Special that I was going to see in theaters last Saturday night. I thought it was an appropriate time to learn some Friends lore. Unfortunately this book wasn't the best book to read for this reason. There was some interesting Friends history included, but most it was common knowledge that can be found via Google by anyone. I think the point of this book was to see Friends through the 2019 lens instead of the 1990's lens when it was created. I don't think is a fair thing to do to any show; obviously times change and society evolves. That doesn't change my love for Friends.
After I Do
By Taylor Jenkins Reid
****
This is my favorite Taylor Jenkins Reid novel. If you're not aware, TJR is huge right now. She has written so many amazing books, and now I see why she is so popular. This book took a very depressing situation and topic (separation and divorce) and managed to weave a story that was full of friendship, self discovery, and family. I loved every minute of this book, and I was up way too late a couple of nights reading it. I never felt pity for the characters who really did deserve pity because I felt the growth they were undergoing. I felt like no matter the outcome of the story, these character would be just fine. I only gave After I Do four stars instead of five stars because I felt like the ending dragged on and the book could have stood to have been 20-30 pages shorter.
Next Level Basic
By Stassi Schroeder
****
This book will not mean much to you if you do not watch Vanderpump Rules on Bravo. VPR is one of my favorite reality shows, and Stassi is one of my favorite women on that show. I find so many similarities between my opinions and Stassi's opinions, which is why I like her so much. This was my second and final audiobook in September. Stassi's memoir is read by her, which is how I prefer to listen to memoirs. I laughed a lot while listening. Stassi is unapologetically herself, and I admire that. It is especially impactful because I hold a lot of the same opinions as she does, but I do not embrace those opinions as much as she does. It feels like she is one my voices to the world.
---
Join me over on Instagram for my October reading challenge to only read spooky books for an entire month. Spooky books don't have to be only thrillers. You can read spooky stories in just about any genre. If you find it spooky, it counts. Use the hashtag on Instagram* to be entered into the giveaway at the end of the month: #SpookyBooktober
*Make sure your profile is public to enter.